SSK Mobile AAD Calculator
Details
Case Study: SSK Mobile AAD Calculator
Customer: SSK Industries, Inc.
Website: www.sskinc.com
SSK, Inc., founded in 1983, manufactures, services and integrates advanced technology parachute systems and equipment. In 1991, SSK became the U.S. Service Center for the German-produced CYPRES AAD (Automatic Activation Device) manufactured by Airtec, and is now responsible for the maintenance and support of 75,000+ CYPRES units located in the Western Hemisphere.
The Challenge
AAD's require a special "CYPRES" code to be entered based on the altitude and barometric pressure of each individual jump. Many years ago, they provided a PDA version calculator to make it easy for parachutists to enter the altitude and pressure to derive the correct CYPRES code. SSK engaged PhaseAlpha to develop a mobile version of the CYPRES calculator so these calculations could be performed on any mobile device.
The Solution
PhaseAlpha utilized the proprietary CYPRES calculations to develop an improved mobile interface, enabling the calculator to work on iOS and Android devices in portrait mode only. It includes error handling to keep users from entering in the wrong criteria and constrains calculations to only valid ranges of inputs. The calculator allows users to work in either Metric or English units and allows inHG or mbar inputs for the Altimeter settings to support US and international use of the calculator.
Technologies Used
Hybrid iOS and Android Mobile Apps
Android Cordova 4.1.1
iOS Cordova 3.8.0
HTML5 / CSS3
JavaScript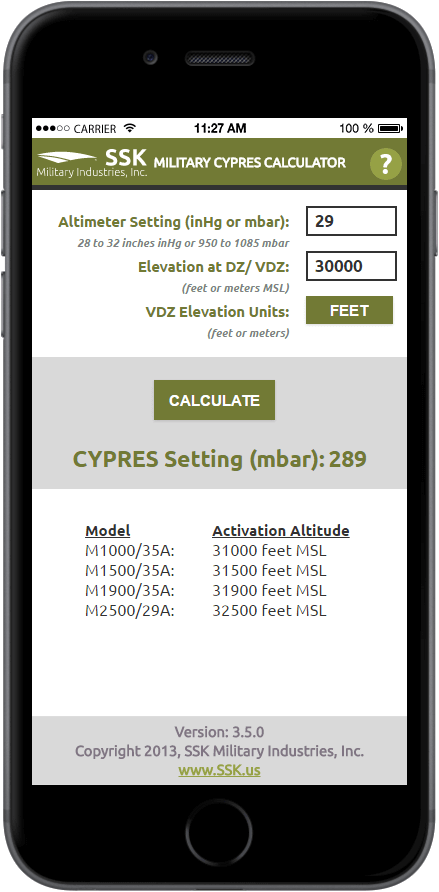 Office
PhaseAlpha, LLC
8400 W 110th Street
Suite 600
Overland Park, KS 66210
Call Us
Phone: 913-648-9200
Toll-Free: 888-559-5673