Lau Mobile Fan Law Calculator
Details
Case Study: Lau Mobile Fan Law Calculator
Customer: Lau Industries, Inc.
Website: www.laufan.com
Lau Industries was founded in 1931. They are a leading manufacturer of fan components and assemblies worldwide. Their product ranges from simple fan blades to highly engineered fan parts. With over 50 patents related to heating and ventilation comfort, Lau innovates solutions to meet the world's changing energy and noise requirements while delivering the highest quality product as economically as possible.
The Challenge
Decades ago, Lau provided a mechanical circular slide rule calculator to help engineers and customers in calculating fan law properties to determine conditions (E.g. Air Flow, Pressure, Speed, and Power) for their fan applications. They decided it was time to develop a mobile version of the calculator so anyone could perform the calculations using their smartphones. Lau desired an app that provided a throwback look and feel like the old circular calculator so it felt similar using the original mechanical device.
The Solution
PhaseAlpha developed a mobile version of the calculator that uses circular dials that users can slide to input their desired conditions and calculate the resulting conditions needed for their fan application. The mobile version provides both textbox and slide input so the user can enter numbers either way. The results of the calculations can be shared via email or text message directly from the smartphone. In addition to the mobile version, PhaseAlpha provided a web-based version of the calculator Lau uses on their website.
Technologies Used
Hybrid iOS and Android Mobile Apps
Android Cordova 4.1.1
iOS Cordova 3.8.0
JQuery Mobile 1.4.5
D3 DOM Framework
HTML5 / CSS3
JavaScript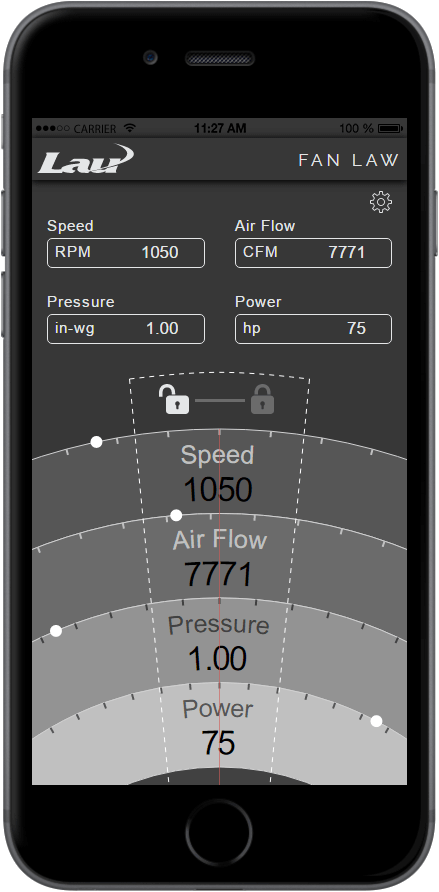 Office
PhaseAlpha, LLC
8400 W 110th Street
Suite 600
Overland Park, KS 66210
Call Us
Phone: 913-648-9200
Toll-Free: 888-559-5673